PODOCURE® Apo-Sterex disinfecting agent 4 L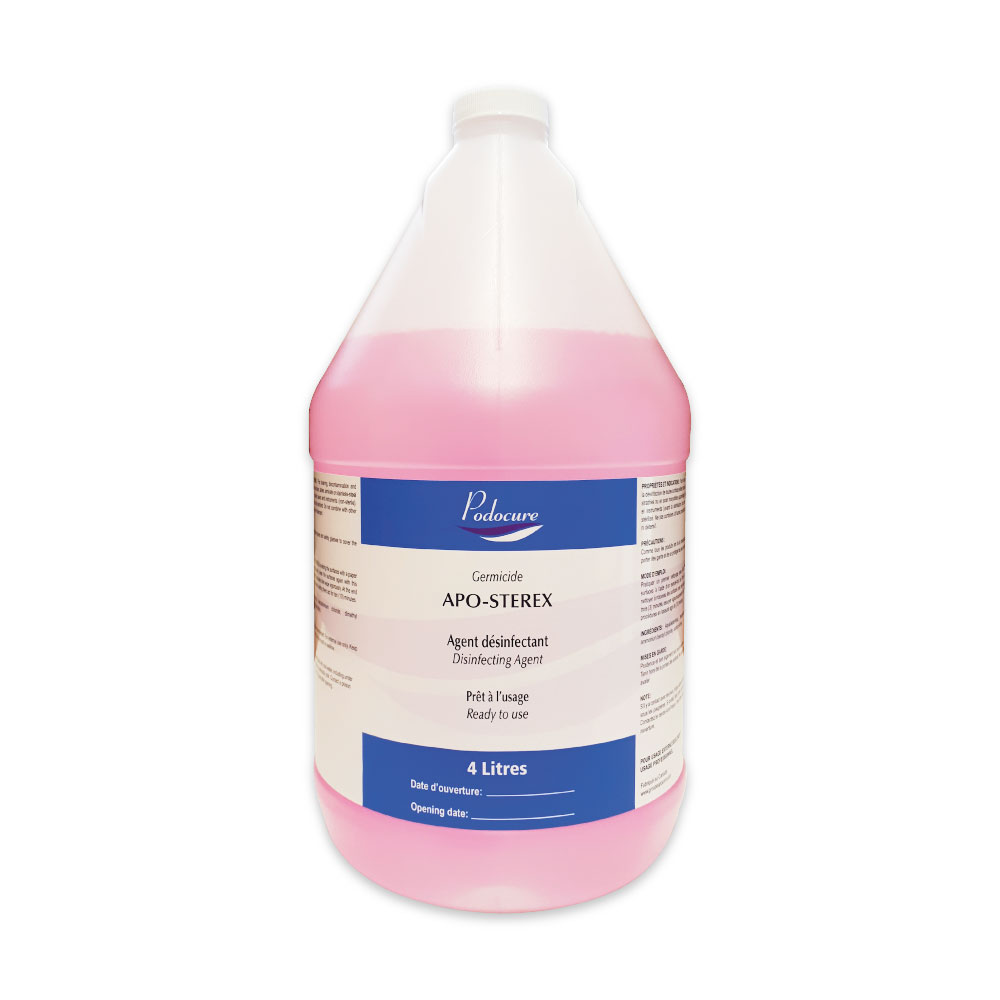 PODOCURE® Apo-Sterex disinfecting agent 4 L
---
Fast delivery. On-screen colors may differ from reality.
PROPERTIES AND INDICATIONS : 
For cleaning, decontamination and disinfection of all surfaces, such as chairs, tables, laminate or stainless-steel countertop, equipment, trays, bowls, basins and instruments (non-sterile). For all items that must be or can be sterilized. Do not combine with other disinfecting product, either soap nor detergent.
PRECAUTIONS : 
It is recommended to wear rubber gloves and safety glasses to cover the eyes in case of splashing.
DIRECTIONS:
Make a first cleaning with APO-STEREX by wiping the surfaces with a paper towel or gauze. Between each client, clean the surfaces again with this solution and leave on for three (3) minutes, then wipe vigorously. At the end of the day, repeat these procedures by letting them act for ten (10) minutes. 
WARNING:
Caution and good judgment are recommended. For external use only. Keep out of reach of children. never put in the mouth or swallow.
NOTE:
If in contact with eyes, immediately flush with cool water, including under the eyelids. If ingested, drink water or preferably milk. Contact a poison control center. Can be used up to 21 days after opening.
FOR EXTERNAL USE ONLY
PROFESSIONAL USE

To install this Web App in your iPhone/iPad press
and then Add to Home Screen.